Look Who's Making it in Radio
Dave Warner, the radio announcer, not the cricketer, is a household name in Cairns. He should be, having co-hosted the breakfast show at Star 102.7 for almost two decades – proving that a job in radio can be more stable than a bank.
A Melbourne native, Dave who loves fishing and snorkelling in remote spots, took what was to be no more than an extended holiday in Cairns. While he was there, by chance, a job came up at the local broadcasting company, he applied for it on a whim, got it. He has no plans to leave any time soon.
General Manager of both Star 102.7 and sister station 4CA 846, Louise Montafia, says her stations have a fabulous atmosphere with "friendly staff and a collaborative culture."
The stations themselves are situated in the vibrant city centre of Cairns with great cafes, restaurants, shopping and nightspots. Among all the other tourist attractions such as The Great Barrier Reef, the city of Cairns, Port Douglas and Palm Cove enjoy a growing reputation as a foodie destination.
With a temperature range of 21c – 34c, Cairns has a laid-back lifestyle, coupled with a rewarding career in radio, making it a truly great place to work.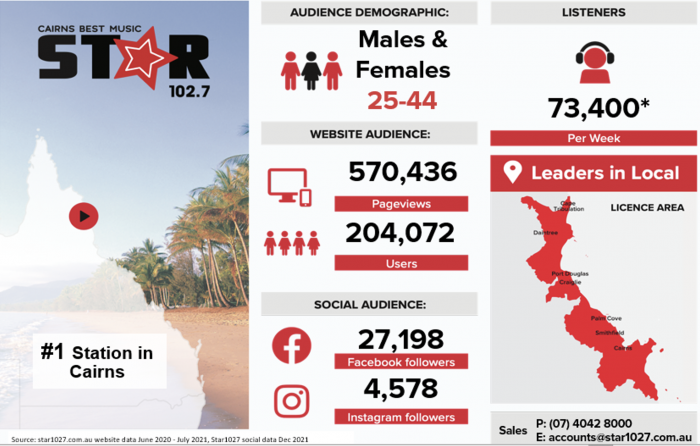 Star 102.7 is part of the ARN Regional network which was acquired from Grant Broadcasters earlier this year. ARN is focused on maintaining the local content strategy that makes the regional network so powerful. The former metro network's expansion delivers even more reach and scale nationally connecting with 8 million people nationwide across 135 stations and 71 markets in every state and territory.