Audio ad spend recovering fast
The latest report from the Standard Media Index shows that audio ad spend is recovering fast from the covid downturn.
As Christmas approaches, audio advertising on radio, smart speakers and music streams had a strong increase, with the audio segment of the index increasing by 9.5% overall.
Radio advertising was up 6.5% and digital audio advertising increased by over 50%.
Audio was ahead of the overall total ad spend, which increased by 2.7% overall in October.
TV bookings declined compared with the same period as last year due to covid restrictions and the changed dates for the footy grand final season. Print newspaper advertising declined, while digital news increased.
Magazine and Outdoor ad spends also increased, as did digital advertising on social media.
Compared with pre-covid spending, this month is ahead of spending in October 2019. Total bookings are up 20.7% on the same four months of last year to a level which is $95 million above the amount spent over the same period in 2019. The strong covid recovery continues, with the Australian market now reporting nine consecutive months of higher ad spend.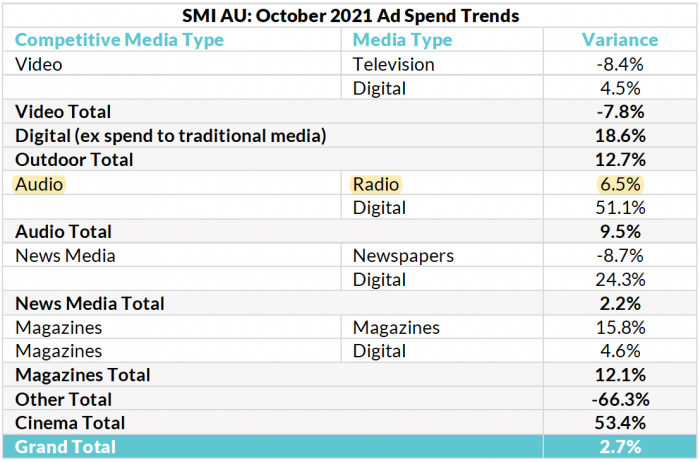 SMI AU/NZ Managing Director Jane Ractliffe says stronger Government category ad spend continued into October with the total up 60.5% year-on-year as the COVID messaging continued. Retail remains the largest category, despite total investment dipping 9.4% year-on-year mostly due to an unusually low level of October bookings from supermarkets.
In October, SMI has also introduced the market's first view of ad spend in the Buy Now Pay Later market by creating a new sub-category within its broader Financial Services category.
The Interactive Advertising Bureau (IAB) has also released its latest Australia Online Advertising Expenditure Report today, which shows that the Australian digital advertising market has continued its growth at pace, reaching $3.232bn for the September quarter 2021, up 42.1% year on year.
The IAB report, prepared by PwC, shows that retail remains the leading advertiser category and that video continues to be strong.
The September quarter had a mix of highs and lows, with Olympics activity encouraging investment but the travel market pulling back again with local lockdowns, according to Gai Le Roy, CEO of IAB Australia.
The digital advertising market's September quarter increased 42% on the COVID impacted September 2020, but also increasing 36% compared to the 2019 September quarter, results that are consistent with the SMI trends.
All categories experienced double digital growth on the September quarter 2020, with search and directories increasing 41%, general display advertising increasing by 45.6% and classifieds up 37.3%, but the total digital advertising market declined by 1.3% on the prior quarter.
Retail advertising was the top advertiser category, followed buy the technology sector. Automotive advertising's share of total spend continued to retract, reflecting the supply challenges; and the travel sector saw the largest decrease in share due to lockdowns reversing the increases experience by travel in the June quarter.
Video advertising's share of general display advertising peaked this quarter at 62%, an increase of 72% year-on-year to reach $784.1m.
Infeed / native advertising grew 30% year on year, while standard display advertising fell 21% year on year. Programmatic trading again increased in the September quarter.