ARN farewells Rick Lenarcic just weeks after Grant Broadcasters buyout
Rick Lenarcic, widely credited with helping to bring Grant Broadcasters into the 21st Century handed in his resignation to his new CEO at ARN, Ciaran Davis, less than month after it bought out Grant's.
As part of a memo sent by Davis to all staff, Lenarcic wrote:
"After nearly 30 years in the media and countless flights, hotel rooms, market visits and reviews, I have decided to resign in my role as COO – Regional, at ARN.
What a fantastic journey! I started as an Account Manager in Burnie Tasmania, progressed to several managerial, group and Executive roles across the country while surviving more than my share of mergers and acquisitions along the way.
Over the Christmas period, as I considered the future, I made the decision that now is the right time for me to make a change. It's time to focus on my health, and more importantly my family with a well-earned break.
I truly believe under the leadership of Ciaran, the ELT and management teams, the ARN business will continue to flourish and become one of the most successful national media/audio companies in Australia.
To all of the hardworking staff across the group, thank you for your support and commitment. I have always spoken about the chapters in one's life. This novel is done, but I know there will be a sequel.
Wishing you all health and happiness. I look forward to catching up again 'sometime' in the future.
Rick"
In the same all staff memo, Davis wrote:
Hi All,
I have some disappointing news to share with you today.
As you know, we have embarked on an important chapter in the journey of the ARN business with the recent acquisition of Grant Broadcasters. We know that live and local to the regional business is the key to ongoing success and so we decided that the most effective way to achieve this was to maintain the existing business structure as much as possible. We were excited to welcome Rick Lenarcic to the ARN Executive Leadership Team as Chief Operations Officer, ARN Regional to continue to lead the regional team.
Unfortunately, Rick has recently advised me that he is unable to continue in this role; he has resigned and will finish up with the business straight away.
Whilst this is not how we had hoped for things to go, we are very fortunate to have someone in the business who we are confident can step in quickly to take on this critical leadership role.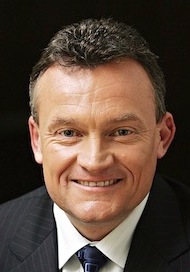 Michael Harvey is the ARN Chief Operating Officer and leads our Broadcast & Technology, Commercial Operations, and Legal teams, as well as The Edge. Michael has extensive experience in media and broadcast, having worked in senior roles in subscription television, the film industry, digital media, and broadcast radio over the past 25 years. Michael has been with ARN, initially as Chief Financial Officer (CFO), since 2013 and during that time has had a significant impact, particularly in simplifying our cross functional processes, systems, and operations to enable the growth that ARN has experienced.
Michael has agreed to take on leadership of ARN Regional effective immediately and will quickly reach out to the key leaders within ARN Regional so that he can build out his understanding of the business and settle into this new role.
Thanks,
Ciaran